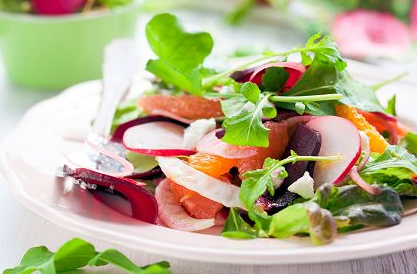 Check out this awesome recipe for a quick and easy way to reboot after an unbalanced weekend. 
SALAD
4 cups (~250 g) mixed greens (arugula, endive, dandelion) 
1/4 cup (29 g) diced red onion
3-4 radishes, thinly sliced
1 Tbsp. (5 g) roasted unsalted sunflower seeds
1 ripe avocado, thinly sliced
1 medium sized beet, roasted or raw, diced or mandarin oranges
DRESSING
4 Tbsp. (30 ml) extra virgin olive oil
1 lemon, juiced (~1/8 cup)
Healthy pinch each sea salt + black pepper
Instructions
Add the greens to a large serving bowl and top with red onion, radishes, sunflower seeds, avocado, and mandarin oranges and/or beets.
Next drizzle on the olive oil and squeeze on lemon juice (no need to mix beforehand! The separation makes for more enhanced individual flavors + 1 less dish). Season with salt and pepper, and toss gently before serving.
Best when fresh, though leftovers keep (undressed) up to 3 days in the refrigerator.